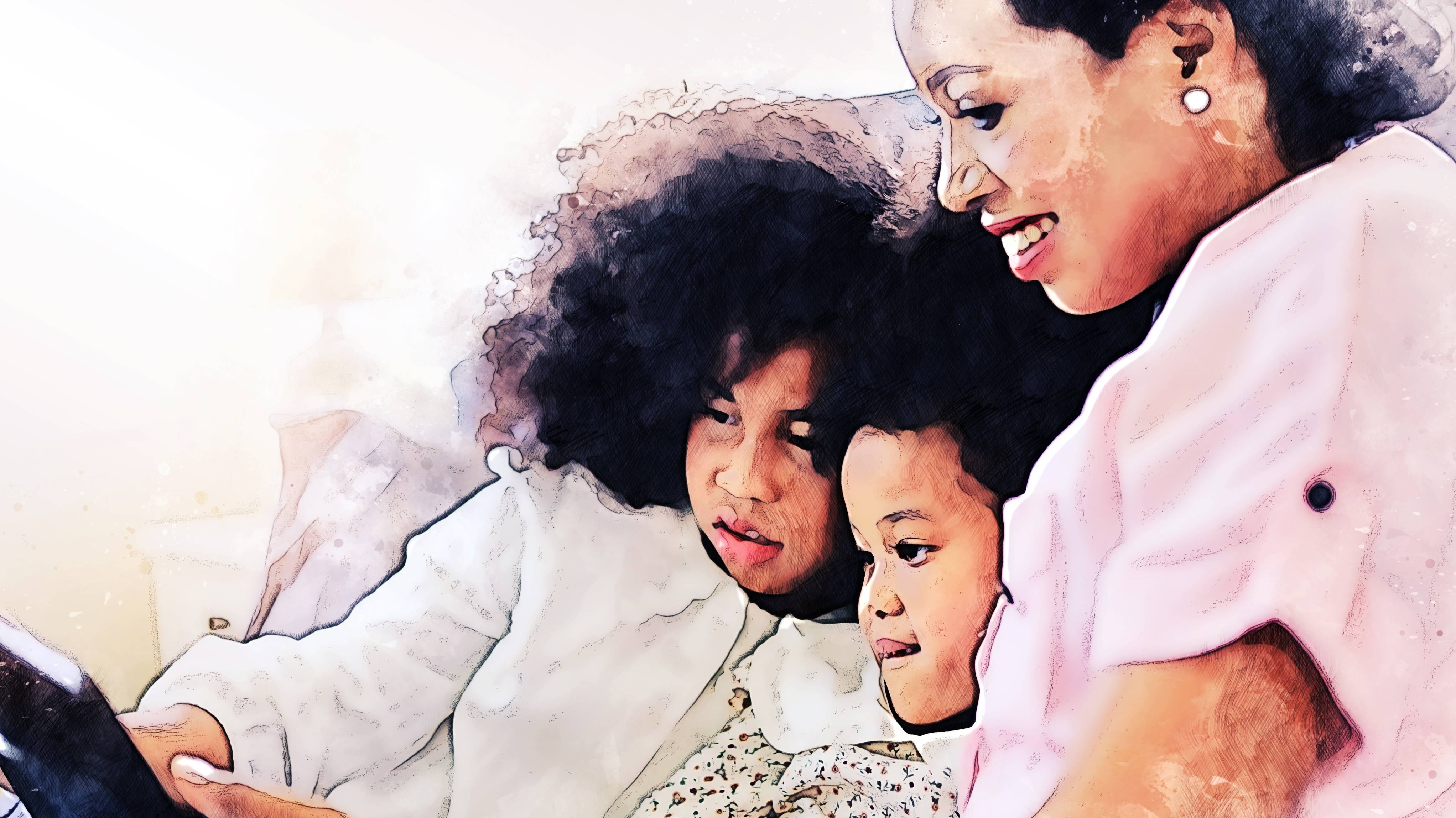 Name: Christina and Steven Garrett, married
Location: Montgomery, Alabama
Occupations: Christina is a productivity coach. Steven is a barber and pastor.
Salary: Almost $100,000 combines
The Garretts of Montgomery, Alabama, are a God-loving, homeschooling, money-minded family of seven.
Husband Steven Garrett prays and gives fades for a living, working as both a pastor and barber.
Wife Christina Garrett teaches people how to "get stuff done" by working as a productivity coach and women's wellness advocate with her brand, The Momathon Diaries.
She should know better than anyone: she homeschools the couple's five children, a 14-year-old son, an 11-year-old set of twins (a boy and a girl), and sons ages 7and 4.
"We've always made family a priority," Christina said.
Steven earns $75,000 a year between his barber business and pastoring, and Christina's coaching business makes $2,000 per month. They have $4,500 in their emergency cash savings and $40,000 in investments, including an IRA. They have about $75,000 total in student loan debt.
The 37-year-olds spend $250 per semester on a homeschooling co-op for the children.
They also pay the children for reading – $5 per book – instead of an allowance for doing house chores. They pay up to $25 per month to the three oldest.
"It's to train them that the mind pays more than labor," Steven said.
Sometimes the family travels with the dad's ministry across the country, which helps the children with their social skills. Steven says that he wants his children to be good at networking because it can help determine net worth. Christina likes that the children "have a different level of conversation" from traveling to conferences.
Part of the reason that the Garretts enjoy homeschooling is that the family doesn't have to wait until summer to take a vacation. "If I am stressed out this month, I will schedule something in two weeks," Steven said.
The family loves movie nights at home, watching Spiderman movies on Amazon Prime and not at the theater. The couple will splurge on new outfits such as suits for the boys for Christmas photos, running $500.
To carve out some time for herself, Christina hires a home cleaning service for $200. Christina recently lost 30 pounds—she's training to run a 10k race— and often works out from home. Her husband goes to the gym and has a trainer, costing $150 per month.
"We both are on the search for a six-pack," Christina jokes.
Their food budget is $150 per week, enjoying meals of sweet potatoes, cabbage, chicken salmon, halibut and brown rice, and other delicious fare. Chicken Alfredo is a family fave. For them to eat out is $60-65, which would feed the family for four days.
They have a minivan that fits seven, which is $340 per month.
Steven, originally from Detroit, wants to be sure that his children and wife are always taken care of. He invested in life insurance at an early age. He has never been "in the streets," he said. However, he knows that as a Black male, "a lot of statistics are against us."
The tithing couple says it has "God Math" in their lives. "God Math" is when a financial blessing happens without any notice. For instance, one of Steven's barbershop clients paid their rent during the pandemic. Another time, a $25 gift card kept working at multiple establishments— including a seafood restaurant—even when the tab was more than the $25.
The Garrets recently moved from Tuskegee, Alabama, because of the additional housing stock Alabama's capital offers. Their rent doubled to $1,350 on a four-bedroom home with the move. However, the self-employed couple wants homeownership.
R. J. Weiss, founder of The Ways to Wealth, says he is impressed with how much the Garretts have saved for their retirement and sees that they are frugal when it comes to budgeting for recurring expenses such as food. He suggests that when the couple finds a home that they want they should to live in it for 10 years.
"The longer that you live in a home, the safer it becomes as an investment," Weiss said.
He wants the couple to have three-to-six months of emergency funds saved. In addition, the couple may be able to spend up to $10,000 of their IRA savings on a home, if needed.
Weiss says that the Garretts should follow the 28-36 mortgage rule when looking for a home: the family's mortgage payment shouldn't be more than 28% of its monthly pre-tax income and 36% of its total debt.
Lauren Zangardi Haynes of Spark Financial Advisors, a fee-only, fiduciary financial planning firm specializing in small business owners and dual-career couples, says that the Garretts shouldn't rush into buying a home.
1. The couple should save up an emergency fund of at least $10,000 because "Once you are a homeowner, you have to deal with whatever breaks," Haynes said.
2. As self-employed individuals, the couple will likely need to have at least two years of steady income via their businesses to qualify for a mortgage. Certain banks are more comfortable underwriting business owners than others, and they should ask around in their community.
3. It's a good idea to go to AnnualCreditReport.com and pull their credit reports to ensure there are no fraudulent accounts or incorrect information. If they don't have strong credit scores, they should talk to their bank/credit union about opening a secured credit card. A secured credit card requires you to fund a savings account and then offers you a credit card to use.
If you make on-time payments and don't charge above the credit limit, it will help you build up your credit. Having a good credit score significantly impacts your lifetime borrowing costs. It is worth it to make sure your credit score is in excellent shape.
It would be wise to shop and compare with at least two lenders over two weeks. Pulling your credit multiple times within two weeks shouldn't harm your credit score.
6. Once the Garretts figure out the monthly mortgage they think they can afford (remember – include the loan payment, taxes, and insurance costs), the couple should set aside the difference between their current rent and proposed mortgage in a high online yield FDIC-insured money market account (check out Marcus by Goldman, Ally, Capital One, Live Oak Bank) for six months. This will allow them to test their spending plan in real-time and build up a down payment or save money for closing costs.