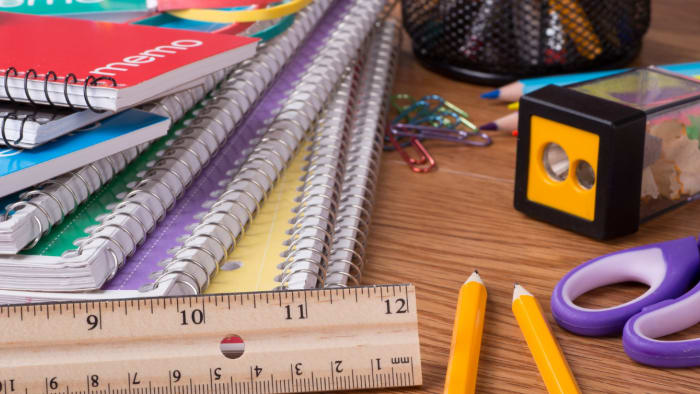 Many households are grappling with soaring prices on gas, groceries, rent and other essentials as inflation continues to climb at the fastest pace in 40 years. Now, it's time for back-to-school shopping.
Financial expert Ryan Wheless from Allied Wealth explains how families can stick to their budget while facing back-to-school expenses.
Scroll below for his top tips.
Q: WHAT CAN PARENTS EXPECT TO SPEND THIS YEAR?
This year, most families are expecting to pay around $250 per child for back-to-school supplies.

From new backpacks and lunchboxes to notebooks and clothes, everything adds up quickly. It's no wonder this is one of the most costly times for families!

Spending for apparel, supplies and technology are all expected to be up 7.5% from last year.

With inflation hitting 9.1%, the rising cost of school supplies is likely going to catch many families off guard.

It's important to make sure your kids are prepared with what they need, but it's also important to do so in the most cost-effective way.
Q: ARE THERE ADDITIONAL WAYS TO SAVE HERE IN TEXAS?
In Texas, the holiday sales tax runs from August 5-7 for clothing, backpacks and school supplies.

Keep in mind, the taxes are capped at $100, but every dollar adds up.

There's also a link on my website, alliedwealth.com, for more information about the sales tax holiday.

Shopping during this time period is a great way to save money on back-to-school supplies.
Q: WHAT STRATEGIES CAN FAMILIES USE TO SAVE MONEY ON SCHOOL SUPPLIES?
Stick to a Budget

Whether you write it down with pen and paper or use an app on your phone, create a budget for your back-to-school shopping.

Without a plan in place, it's easy to overspend.

After printing out the school's supply list, decide what you'll buy and how much you'll spend, and take your list with you when you go shopping so you stick to it.
2. Take Inventory of Leftovers
A great way to save money off the bat is to take inventory of any leftover supplies from last year.

Crayons that were barely used, notebooks with leftover sheets and mechanical pencils that just need new lead; there's usually plenty of supplies your kids brought home that can be reused.

For more expensive electronics like laptops, buying refurbished can save money. A lot of well-known stores like Amazon offer deals on used electronics.
3. Buy Extras in Bulk
Your supply list from your school will likely include a wish list of shared classroom supplies, things like extra cleaning wipes or tissue boxes.

These items are easy to buy in bulk for a cheaper price.

If you have multiple kids, split up the bulk box amongst their classrooms. If you only have one child, keep the extras for your own home.
4. Follow Your Favorite Stores
You can find deals by following your local shopping stores on social media sites, like Instagram and Facebook.

Many companies send their loyal customers coupon links and advance notices of sales, especially around back-to-school season.

If coupon cutting isn't for you, a lot of stores now have apps that keep track of coupons for you, saving you time and money.

Shop at stores that offer price match guarantees to make sure you're getting the best deals. You'll also save time shopping at one store instead of running around to find the deals.

Apps like ShopSavvy allow you to easily scan barcodes to compare prices with other stores.
Q: WHAT ELSE DO FAMILIES NEED TO CONSIDER FINANCIALLY AS WE HEAD INTO THE FALL?
Overspending on back to school shopping may not seem like a big deal, but it's all a part of your overall financial plan.

Being mindful of both small and large purchases will help you stay on track with your long-term financial goals like paying down debt, building an emergency fund and saving for retirement.

Many parents put their children ahead of their own financial stability, but in the long run your kids will thank you for being financially responsible.

Our goal at Allied Wealth is to help as many people as we can live the richest life they possibly can, so they can enjoy the rewards of working all of their life.
Wheless appeared on KPRC 2+ Friday to offer his financial advice. Watch his full interview in the video player at the top of the page.
You can stream KPRC 2+ weekdays at 7 a.m. on click2houston.com and on the KPRC 2 app.