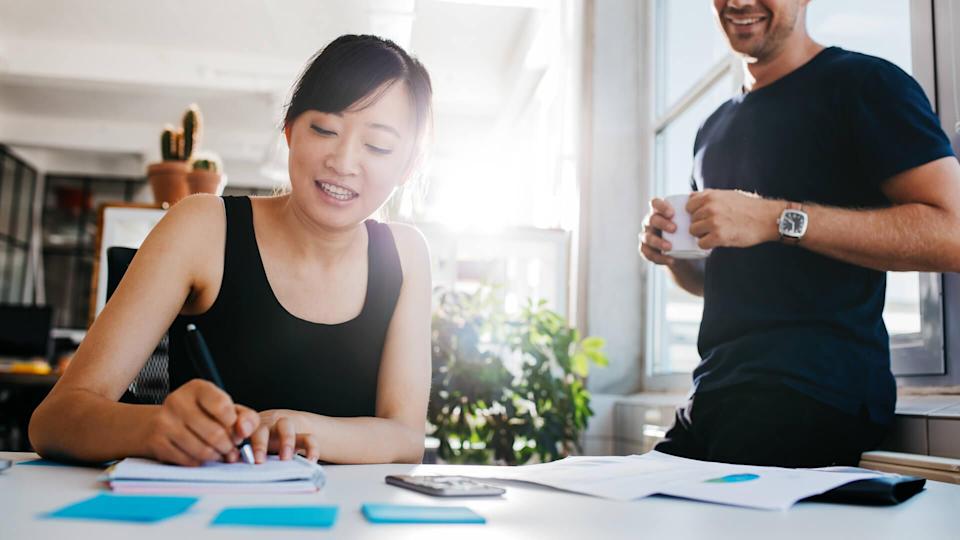 You've been renting your entire adult life, but you're starting to think about taking the plunge into homeownership. While you don't have enough money saved for a down payment just yet, you're ready to start getting serious about putting money aside.
Read: 35 Surprising Cities With Low Costs of Living
See: The Cost To Own a 3-Bedroom Home in Every State
"It's cliche, but it's best to start saving as early as possible," said Robert Heck, vice president of Mortgage at Morty, an online mortgage broker. "Your mortgage lender can tell you how big a mortgage you will qualify for."
If possible, he recommended saving more than the bare minimum.
"Saving more than you think you'll need is a great way to build a buffer — ideally enough to have six months of emergency funds post-closing," he said. "A down payment will be the biggest upfront expense on the road to homeownership."
When it comes to saving for a down payment, Heck recommended making major changes to your budget.
Discover: 50 Easy Things You Should Do To Save Money
"If your strategy for saving a significant amount of money is to just cut out all the little things and wait for the savings to accumulate, you'll probably be waiting a long time," he said. "Eliminating bigger expenses like rent, car expenses and high-interest debt can help to build up more savings. Once you've considered ways to reduce your biggest expenses, you can start moving down to smaller expenses."
He said it's also wise to start thinking about ways to increase your income. This might involve setting a large tax refund aside, saving all of your end-of-year bonus or asking your boss for a small raise.
If you're able to secure the latter, Heck advised putting your extra earnings directly into savings.
"Generally, the safest place to save money for a down payment is in a high-yield savings account," he said. "Automating the savings process by allocating a certain percentage or dollar amount of your regular pay to go directly into a savings account for your down payment can help to remove the temptation and ability to spend that money on other purposes."
Research: Best High-Yield Online Savings Accounts of 2021
He also recommended calculating your debt-to-income ratio — i.e., your monthly debt payments divided by your gross monthly income.
"A debt-to-income ratio of 50% is typically the highest mortgage lenders will accept for a mortgage, but [it] depends on the loan program," he said. "When Morty works with borrowers, we always remind them that this is calculated based on gross — pre-tax — income, so they need to evaluate these monthly expenses alongside disposable income and other recurring costs such as food and other living expenses."
Ultimately, he said a DTI ratio in the 30s or 40s is a good target.
Prior to purchasing a home, Michele Hammond, a senior home lending advisor with Chase Home Lending, agreed that it's a good idea to carefully monitor your budget, to ensure you can afford your future mortgage payments without buyer's remorse.
"Ahead of purchasing a home, a good readiness tactic is to put away an amount that is comparable to what your mortgage would be on a monthly basis into a savings account," she said. "After doing so for six months, you will have adjusted your lifestyle to manage a mortgage, and at the same time, saved a good portion of money to put toward the down payment, closing costs, upcoming mortgage payments or unexpected 'fixer upper' costs for your new home."
Find Out: This Is the Salary You Need To Afford the Average Home in Your State
More than just having cash for a down payment, Hammond said closing costs — i.e., expenses like appraisals and inspections — should also be kept in mind.
"These can amount to up to 3% or more of the final purchase price," she said. "While there is no way for a buyer to completely avoid paying these fees, there are ways that homeowners can save on them."
For example, she said some banks offer assistance with closing costs to customers who take out a mortgage through the financial institution.
Ultimately, the type of mortgage you take out will determine the minimum down payment you'll need. For example, you'll be required to put at least 3% down with a conventional loan or 3.5% for an FHA loan.
Learn: How To Buy a House With No Money Down
Keep in mind that you typically need a 20% down payment to avoid having to pay private mortgage insurance, which is added to the cost of your monthly payment. However, some lenders offer mortgages that allow you to put less than 20% down without paying PMI.
Despite that, the median down payment for homes purchased with financing is 6.6% of the median sale price, as of the third quarter of 2020, according to Attom Data. This is an increase from 5% in the second quarter of 2020 and 4.7% in the third quarter of 2019.
No matter what the size of your target down payment, building your savings will take time. Figure out your budget as soon as possible, so you can calculate how much you'll put down and create a budget that aligns with your goal.
More From GOBankingRates
Last updated: Sept. 24, 2021
This article originally appeared on GOBankingRates.com: Saving for a House: Tips To Build Your Down Payment Fund