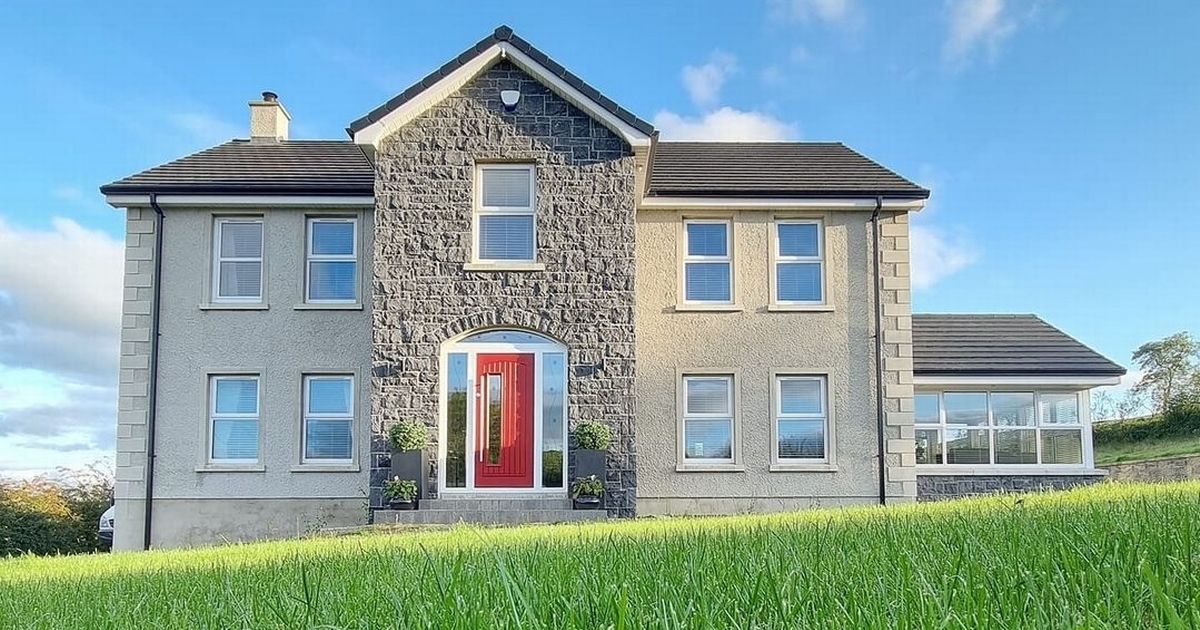 Emma also shares where to shop for interiors, budgeting and a look inside her property
A Co Antrim woman has shared a look inside her stunning self build home, along with top money saving and transformation tips for others.
Emma McMullan and husband Mark live on the North Coast and started their build in 2017, moving into the house in May 2018.
The property has four bedrooms in total, two with en suites, a main bathroom, along with a kitchen, dining room, sunroom, utility with a downstairs toilet, a boot area and a main living room.
Emma said her and Mark "have put a lot of heart into" their beautiful home, which they showcase through their Instagram – Shankly House.
Here are some tips for those on a similar journey, along with interiors inspiration from inside their property.
Why did you do a self build?
We bought our site with full planning permission but tweaked it along the way to suit our needs. The site appealed to us due to having a good amount of land and being situated out in the country. It was an opportunity to put our own stamp on things.
Where did your love from interiors come from?
I suppose it started with my love for fashion. I think fashion and interiors have never been worlds apart. Investing in something for your home has more longevity. Interiors, like fashion, is an expression of your personality and for me, I get to enjoy both. I love high end brands to high street – and have no objection mixing them both.
My mum and dad were also a major influence, they built their home back in 2000 and I enjoyed going around all the different interior shops with them. Picking lights and tiles etc. There is so much to think of during the fit-out of your home, I enjoy seeing a room come to life.
What are your top tips for others doing a self build?
Set realistic timescales, and set a budget, it's also important to have a budget beyond the build also. For example to purchase blinds for rooms that you will be spending most of your time in. My husband's area of expertise is quantity surveying.
He was able to manage all aspects of the financial side of the project, and save money as needed. It's really important to stay organised, and keep all of your receipts for materials purchased!
In Northern Ireland, once your home is completed, you will have three months to submit and reclaim your VAT. So having all your invoices etc organised makes life a lot easier.
Hire local trades where possible. It's always good to have reliable trades that have been recommended by others.
Where should people start when transforming their home?
The possibilities are endless, given what you have to spend. Interior design doesn't need to be expensive. It's amazing what a lick of paint can do to transform a room. As the saying goes, you don't have to move, improve!
I find wallpaper another inexpensive way to add character to a room. Re-organising and decluttering can have a massive impact and doesn't cost a thing. Lighting is another great way to transform a space.
A simple floor lamp or table lamp can add a cosy feel without the massive price tag.
I do believe the kitchen or bathroom is a good place to start, these areas tend to yield a better return on your investment, and end up paying for themselves in the long run.
Where are your favourite places to shop for interiors?
I like to shop local where I can, and few of my favourites are Gault's in Ballymoney, Heart and Home, Dunelm and CFC interiors. I have to admit that there are so many gorgeous interior shops online. A few of my favourites are CharlesTed Interiors, Cox & Cox and Graham & Green. These are all places I have purchased from.
What are you top interior tips?
Do not get sucked in by current trends. It's your home! There are no right or wrongs in interior design. Your home is where you spend most of your time, so it needs to reflect you and your family.
When considering paint colours and fabrics, it's always a good idea to get a few samples of the ones you like and put them together to see which works best in that particular room, and in different lighting. This will give you an idea of what works well together, almost like a mood board. From this point you can then incorporate fabrics and textures.
Another cost effective way is to transform old to new. It's amazing how a can of spray paint can transform a vase or item that no longer matches the room to which it's placed.
Do you have any money saving tips?
Make a plan and decide a budget. Do it yourself when possible. For eg, revitalise a piece of old furniture or item with paint or a spray can.
Shop around, if you see something you like, look online to see if you can find an alternative at a lower price. Another cost effective idea that is easy to achieve is changing out accessories.
Anything old that you no longer need can be sold on Facebook Marketplace or Vinted. I've sold a few items of furniture and replaced with new pieces once they were sold.
How would you describe the décor of your home?
I think our home is modern classic with a mix of contemporary. I find it hard to pinpoint my style, because if I see something I like, I tend to make it work.
What are the best and worst parts of transforming a home?
The best parts are bringing a space to life with things you spent hours researching and making sure they all work together. I honestly can't say there is a worst part, I enjoy it. Maybe if I was to sit down and tally up what has been spent so far, I might change my mind…
Take a look at the beautiful home before & after in our gallery below!