SALT LAKE CITY — If you love home-cooked meals but not the time and energy it takes to prepare them, this is for you.
From keeping a well-stocked pantry to batch cooking, give any of these nine time-savings tips a try to help make cooking at home a breeze.
1. Plan Ahead
Taking some time during your week to plan out meals — especially dinners — can make cooking less stressful. No more wondering what you'll be having for dinner at 4:30 p.m. each day. Planning ahead also helps you know what ingredients you'll need beforehand so you won't be frazzled at the last minute, looking for ingredients in your pantry or at the grocery store.
To make meal planning a habit, choose the same time each week to sit down and write everything out. You can do the traditional pencil and paper method or you can plan it digitally using notes or an app on your phone or tablet.
One way to make meal planning easier is to do themed nights, such as meatless Mondays, Mexican style; Tuesdays, soup; Wednesdays, slow cooker; Thursdays or pizza Fridays. Having a category for each day of the week can help narrow down what you'll be having and help decrease the time it takes to plan your meals.
2. Keep a well-stocked kitchen
Whether you didn't have time to go to the grocery store or you need a last minute meal, having a well-stocked kitchen can help ensure you'll have some useful ingredients at home to whip up a meal in a pinch, saving you time and energy.
Some basic pantry items include canned items such as broth, coconut milk, beans and tomatoes. Keep your pantry stocked with several herbs and spices, olive or avocado oil, vinegar, honey, nuts or nut butter, brown rice, quinoa and whole wheat pasta. Other good items to have on hand include garlic, onion, lemons, limes, and frozen fruits and vegetables.
3. Read the recipe
This might sound like a no-brainer, but you'd be surprised how many times not reading the full recipe can lead to a panic when you realize you don't have everything you need. Start with the ingredients list and read all the way through the instructions.
Sometimes there are extra prep instructions you might not have thought of from just looking at the ingredients, or miss an extra seasoning, garnish, or suggested "serve with" ingredients that were not written in the actual ingredients list.
4. "Mise en place"
Mise en place is a French term for "everything in its place." Prepare and organize all of your ingredients, prep tools and cooking utensils before starting the recipe. With mise en place, there's no need to rush to search for and grab the spices (or other ingredients) before the skillet of food burns because you'll already have it on hand.
Preparing before cooking will help you to know if you actually have everything you need before starting the recipe. It also increases efficiency and decreases stress during the cooking process.
5. Get creative with ingredients
You don't always have to follow the recipe exactly as written. There's usually some leeway for ingredient substitutions in many recipes. Oftentimes ingredients in recipes can be substituted with similar items that will still yield a delicious meal. Most fruits, vegetables, grains, beans, dairy products and seasonings can be substituted for similar items.
Adjusting the recipe to what you have on hand not only saves money and a trip to the store, but reduces food waste, as well. Sllightly tailoring a recipe to your food tastes and preferences can also open the door to trying new recipes and foods.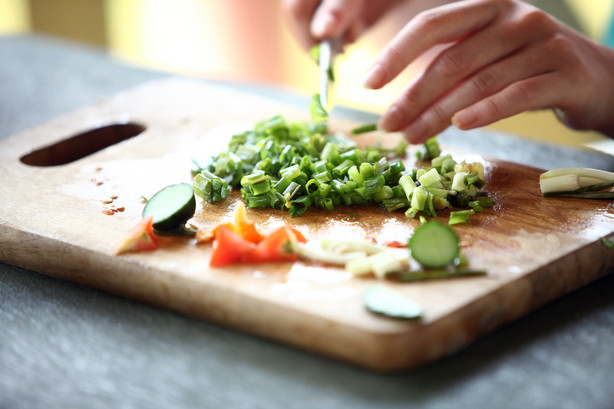 6. Use time-saving items
Cooking from scratch is something to be proud of, but don't think you have to disregard time saving tools and ingredients to create a healthy and delicious home-cooked meal. Kitchen tools made to save time chopping or blending include a food processor, immersion blender, microplane zester, mandoline slicer and more.
You can also purchase ingredients that have already been pre-chopped, such as butternut squash, onions, bell peppers and lettuce. Pre-sliced raw beef and chicken, or even purchasing a cooked rotisserie chicken can save time in the kitchen, as well.
7. Batch cook
Preparing large batches of food at a time can save time and energy later on. Rice, quinoa, beans, sauces, stocks and even chicken can easily be cooked at the beginning of the week and used in recipes throughout the week to make preparing a meal both quick hassle-free.
Many batched cooked foods can be either refrigerated or frozen. Be sure to check beforehand the shelf life of the prepared item and if the particular item freezes well or not. You can pre-portion your batched cooked ingredients before storing them, or keep it all together in one big container. Either way, you can easily grab a portion out of the fridge or freezer to use for meal prep any day of the week.
8. Passively cook
You don't need to spend a lot of time in the kitchen in order to create a delicious meal each night. Cooking methods such as pressure cooking, slow cooking and roasting all allow you to do other things while the cooking process goes on. Sheet pan meals are a great example of how roasting can yield a delicious meal while requiring little attention during the cooking process.
This honey garlic shrimp and broccoli meal is an easy and flavorful sheet pan dinner. Don't want to heat up the house by turning on the oven? Give this pressure cooker chicken sweet potato curry a try or break out the slow cooker for this chipotle corn chowder.
9. Clean as you go
Everyone loves a delicious home-cooked meal, but usually not cleaning up that kitchen after it's all been said and done (and eaten). To keep things manageable, wipe up drips or spills, rinse a dish or clear the counter as you cook.
Cleaning as you go helps keep things organized, provides you with more space to work and decreases the amount of mess and dishes to clean up afterwards. That way you can enjoy your meal without having a sink full of dishes waiting for you, too.
---
---
Editor's Note: Anything in this article is for informational purposes only. The content is not intended, nor should it be interpreted, to be a substitute for professional medical advice, diagnosis, or treatment. Always seek the advice of your physician or other qualified health provider with any questions you may have regarding a medical condition; Any opinions, statements, services, offers, or other information or content expressed or made available are those of the respective author(s) or distributor(s) and not of KSL. KSL does not endorse nor is it responsible for the accuracy or reliability of any opinion, information, or statement made in this article. KSL expressly disclaims all liability in respect to actions taken or not taken based on the content of this article.
×
Related Stories
More stories you may be interested in