Samsung teams up with Mrs Mummypenny to share advice on saving energy – benefitting both your pocket and the planet!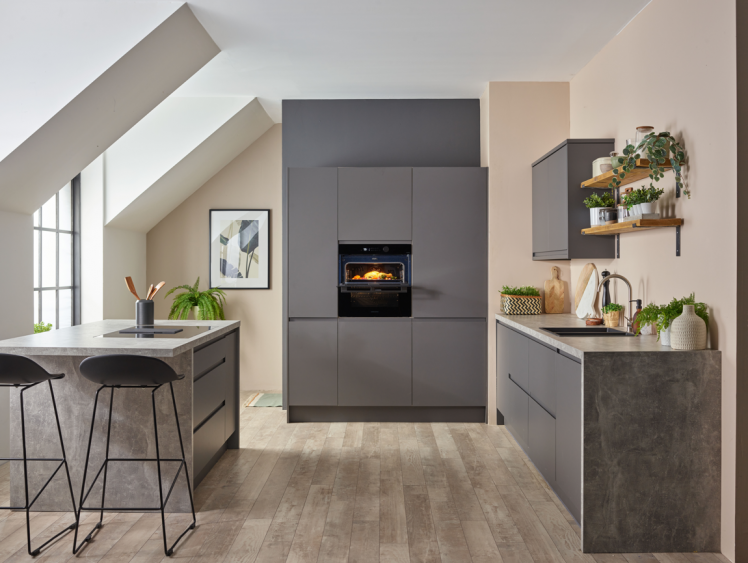 LONDON, UK – 17th October 2022 – As the days draw shorter, and the weather becomes colder, the nation will look to spend more time in the home – using more household energy. With energy prices at an all-time high, Samsung's teamed up with money-saving expert, Mrs Mummypenny, to share energy saving tips that will not just keep your home warmer this winter – but will help you make some real cost savings, too.
Smart Cooking
With a conventional oven, be careful to only preheat for the designated time. If possible, cook multiple dishes in your oven at once – with Samsung's Dual Cook technology, you can run a single oven at two different temperatures, effectively giving you a double oven without needing more space. What's more, if you don't need the full oven, Dual Cook saves 25% on energy and pre-heats 52% faster by only using the top half[1]. And avoid opening the oven door whilst cooking – doing so drops the oven's temperature by 25 degrees each time[2]. But when you have finished cooking, open the oven door to heat up the kitchen a little.
Drop One-Degree
'Energy Saving Trust' states that even turning down your room thermostat by just one degree can save £145 a year[3]! If 22 degrees is your preferred temperature, reduce it to 21 degrees. Aim for the lowest setting that keeps the room at a comfortable temperature, as this will reduce the volume of hot water, using less energy and save you money. Put it down to 19 degrees and wear a jumper. Just a one-degree reduction is a huge saving – keep track of how much energy you are using on the Samsung SmartThings App.
Do Fewer, But Larger Laundry Loads
Your washing machine is one of the most heavily used appliances in the home and will use about the same amount of energy no matter the size of the load, so fill it up. Samsung's new Series 5, 5+, 6+ and 8 Washing Machines feature SpaceMax™ Technology, allowing for greater wash loads of up to 11KG – ideal for busy households. Plus, the unique AI powered ecobubble™ Technology generates bubbles that help wash clothes at cooler temperatures – 30 degrees is fine, even when washing children's muddy clothes. This means you can remove stubborn, everyday stains with less heat, helping save on energy bills. Also, always use the economy mode of washing machines and dishwashers if there is an option.
Consider a Heat Pump
The initial cost may be higher, but Samsung's energy efficient Heat Pump tumble dryers make sure clothes are optimally dried while saving on power consumption. It works by absorbing water from the laundry by passing hot air through the drum, which evaporates and removes the water. This air is then reheated and sent back through the drum multiple times until the laundry is dry. Its latest Series 5, 5+, 6+ and 8 A+++ Rated 9KG Tumble Dryers, featuring Heat Pump technology, saves more than £1400[4] on household energy bills over five years when compared to a standard condenser tumble dryer.
Defrost Your Freezer
The more ice you have built up in your freezer, the more work its motor must do, which means more energy. It's not much of a difference daily but left over a year it can add £100-£200 to your energy bills[5]. Samsung's clever No Frost technology eliminates ice build-up by extracting air and humidity to maintain an even temperature, meaning you never have to defrost your freezer. What's more, Samsung has the most energy efficient freestanding American fridge freezer on the market[6] that features Twin Cooling Plus technology, helping to maintain food freshness.
Personal finance expert, Mrs Mummypenny, said:
"Reducing your energy consumption is key to saving money this winter given the energy price cap increase from 1st October. The energy price cap is £2,500, based on standard average family usage, however this is just a cap on the unit price charged by your energy provider. If you use more, you will pay more."
"Following these tips on everyday living will save you money, pick and choose those that work for your family, or do them all and save. We all need to do things differently this winter. Heat the person not the house. Nag the family to follow the same principles. And track how much energy you are using on the Samsung SmartThings App."
Tanya Weller, Marketing Director of Home Appliances at Samsung Electronics Co., Ltd., said:
"As part of our mission to be the No.1 energy efficiency brand, we are building unique technologies across all our home appliances to drive energy efficiency, helping customers feel empowered to make eco-conscious decisions. We will continue to build on our innovations to support the move towards an eco-friendlier lifestyle, all while improving energy efficiency."
[1] Internal testing on Series 5 NV7B5675LAK, upper vs. whole compartment for small cake baking at convection 165℃ (IEC-60350)
[2] https://energized.edison.com/stories/easy-ways-to-save-energy-while-cooking#:~:text=With%20a%20conventional%20oven%2C%20only%20preheat%20for%20the%20designated%20time.&text=If%20possible%2C%20cook%20multiple%20dishes,heating%20your%20oven%20multiple%20times.&text=Your%20oven's%20temperature%20drops%20about,open%20the%20door%20while%20cooking.
[3] https://energysavingtrust.org.uk/energy-saving-budget/
[4] £1489 saving based over 5 year running costs on the average energy usage of Samsung A+++ Heat Pump Tumble Dryers versus the average energy usage of condenser tumble dryers sold in major UK retailers on 20/09/22, completing 260 cycles per year (Based on the EU Energy Label Standard) with an energy cost of 34p per kWh
[5] https://www.thisismoney.co.uk/money/bills/article-2605935/Is-defrosting-freezer-easiest-way-cut-energy-bills-overnight.html
[6] Models RS68A884CSL and RS68A884CB1 are C energy rated compared to all other American style fridge freezers sold in major UK retailers on 03/05/22 which are D energy rated or below